Northern Fire Systems is one of North Queensland's most well respected Fire Protection management and solutions business that is locally owned and operated. With our expert fire protection knowledge your business or premises will be better prepared if a fire or emergency situation may ever arise.
Our qualified and accredited team provides a strong mix of industry experience, market knowledge and advanced solutions to help protect your business or premises, and will supply, install and maintain extinguishers, hose reels, hydrants, sprinkler systems, fire alarms, safety products, special hazards, security and emergency lighting, all complying to Australian Standards.
FIRE & EMERGENCY WARNING SYSTEMS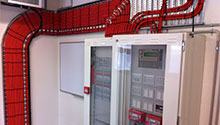 Properly installed and maintained fire detection equipment is vital to ensure that a fire is detected early before it takes a foothold and destroys life or valuable property.
FIRE PROTECTION EQUIPMENT & CONTROL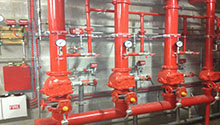 We also supply, install and maintain fire protection equipment such as fire extinguishers, hydrants, hose reels, fire doors and fire sprinklers.